;
5 Easy Weekend Trips from Perth
While there are plenty of things to do in Perth, not getting out to see the rest of Western Australia would be a massive shame. Don't worry – this list of cool and affordable weekend trips from Perth will help you take advantage of the best days of the week and get plenty of Instagram-worthy pics that will have friends back home squirming with envy.
1. Visit Rottnest Island's Celebrities
A 90-minute ferry ride from Perth City and just 30 minutes from Fremantle, Rottnest Island offers a unique island escape. Besides the stunning scenery, the island was made popular by some of its most beloved and Insta-famous residents, the quokka, a smiley little marsupial with a boatload of cheek-squeezing cuteness. (Don't actually squeeze them though…they're wild animals!)
Besides these furry bundles of joy, there is plenty to see and do both in and out of the island's clear blue waters. Rent snorkels and see 135 species of tropical fish, grab your scuba gear and visit an underwater graveyard with 13 shipwrecks, or wax up that board and catch a wave.
More of a landlubber? Rent a bicycle to explore the numerous trails that meander around the relatively small island. Climb the Wadjemup Lighthouse or ride a train through WWII tunnels. For those with nerves of steel, you can even choose to jump out of a plane.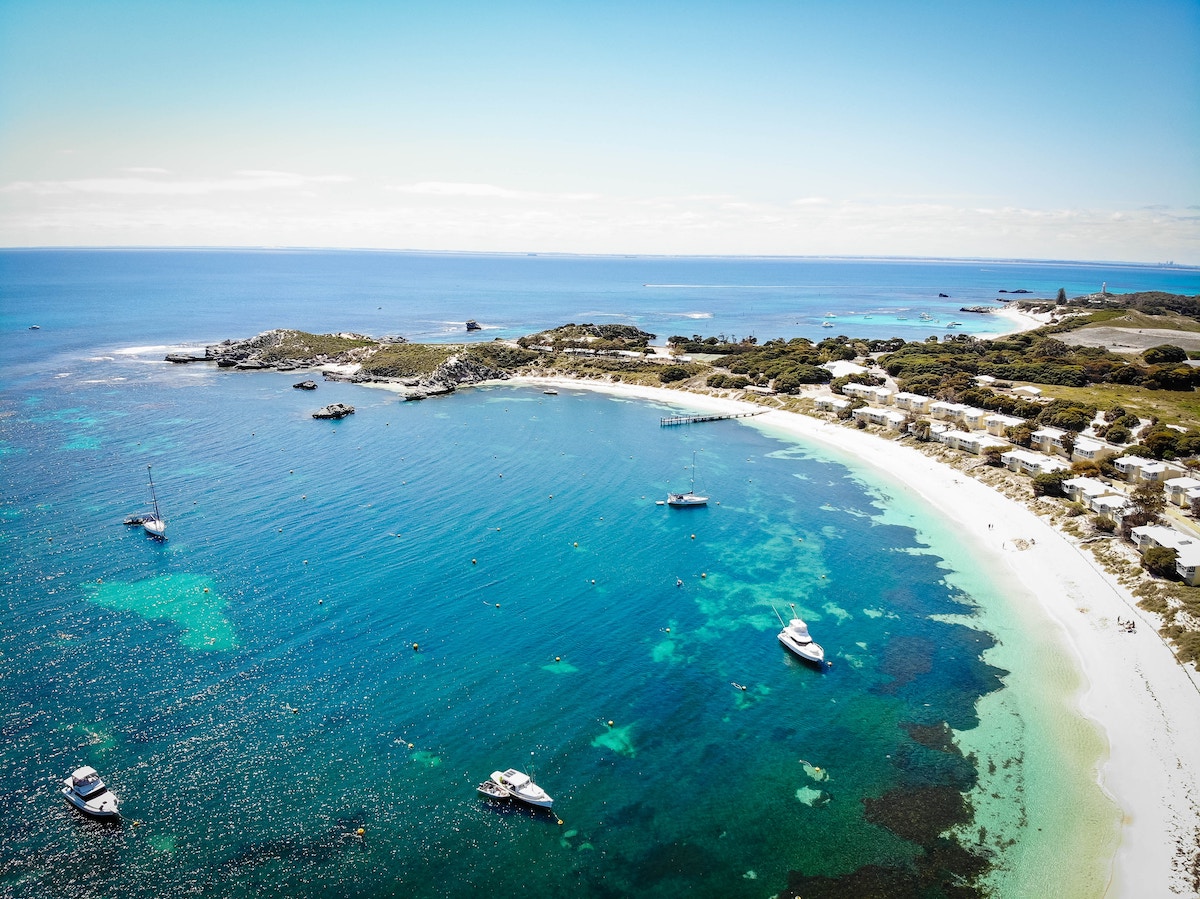 2. See the Alien Pinnacles in Nambung National Park
A 90-minute drive from Perth will get take you to an alien landscape of ancient rock formations known as The Pinnacles. Formed about 30,000 years ago, these natural limestone pillars can reach up to five metres high! Walking through them is like being on the set of a sci-fi film.
Nambung National Park covers over 17,000 hectares and is home to loads of native animals and birds. Just outside the desert park are plenty of other sights and activities, including Jurien Bay Marine Park where you can relax on the beach at Hanover Bay or partake in a number of watersports.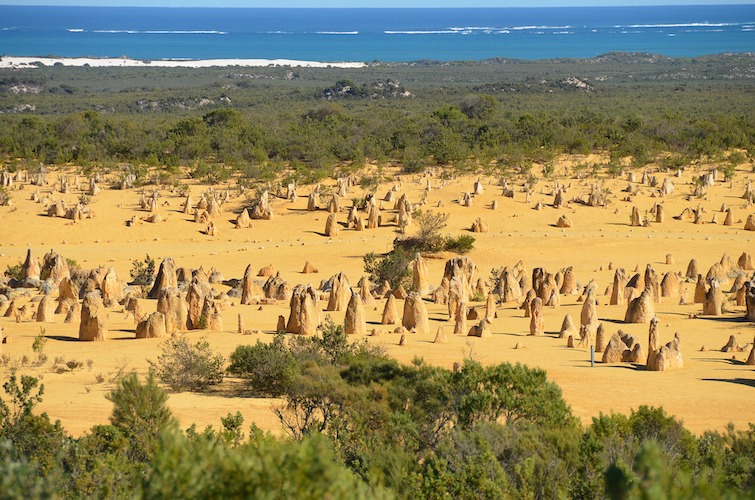 3. Seek Out Western Australia's Largest Sand Dunes
Lancelin is a small fishing town one and a half hours from Perth that's popular with water sports enthusiasts due to its excellent wind and wave conditions. The ocean is a turquoise green and dolphins can be seen swimming in the bay on most days. Seal colonies hang out on the islands offshore and humpback whales are often spotted passing the reef during their migration season.
Behind the town of Lancelin, you'll find the biggest sand dunes in WA. These things are huge! Stretching out over two kilometres, the dunes can reach up to three storeys high. Rent a sandboard and skirt down these sandy mountains for some great photo ops. Quad bikes, dirt bikes and four-wheel drives are also out in force but not recommended for newbies, as they can be quite dangerous on the steep sandy slopes.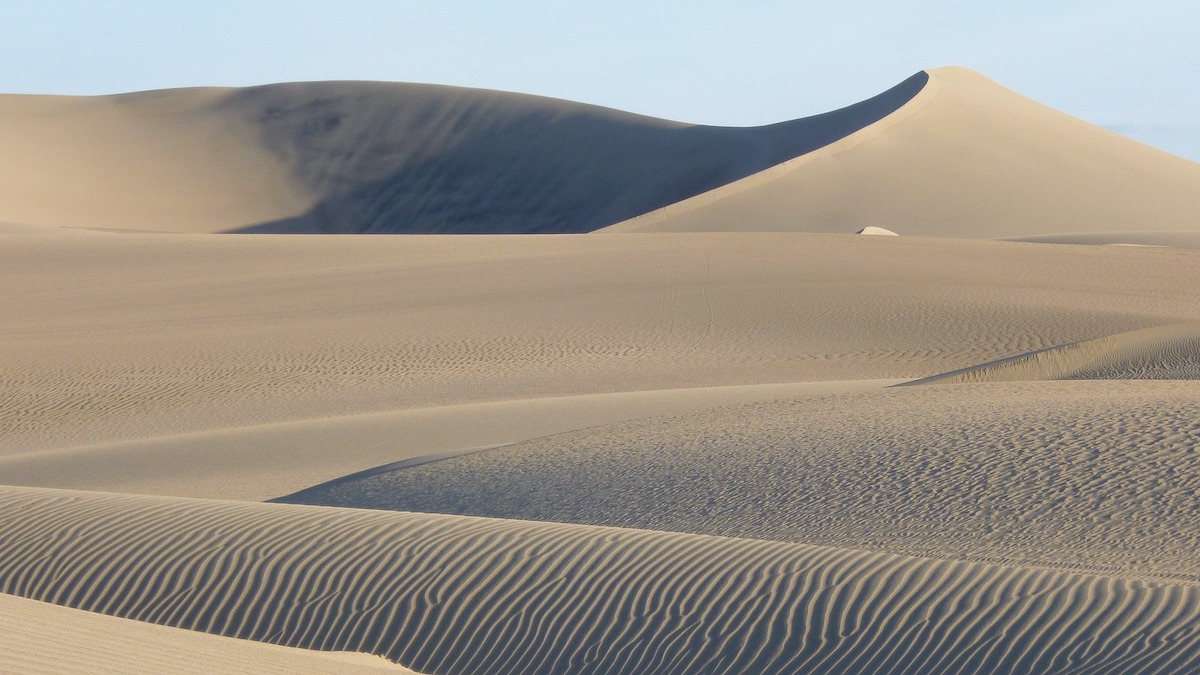 4. Make Your Way to Margaret River's Mammoth Caves
The Margaret River region is famous for its wineries and produces a fifth of Australia's premium wines. With more than 120 wineries to explore, it is a wine lover's dream. If you're more into your brew, there are plenty of craft beer breweries as well.
If countless wineries and breweries aren't enough to lure you to Margaret River, the region is also known for its spectacular caves. Lake Cave is home to a huge suspended table of limestone crystal which hangs above the internal lake and may be the only formation of its kind in the world. Mammoth Cave houses ancient megafauna fossils and Jewel Cave has three massive chambers that are home to some of the longest straw stalactites in any tourist cave in the world.
If you'd like to experience an underwater world but aren't too keen on being shark bait, head over to Busselton and walk down the 1.8-kilometre wooden jetty or hop on the jetty train. Eventually, you'll find yourself at the Underwater Observatory where you can descend to an observation chamber eight metres below the surface and see all the tropical fish and coral without getting wet.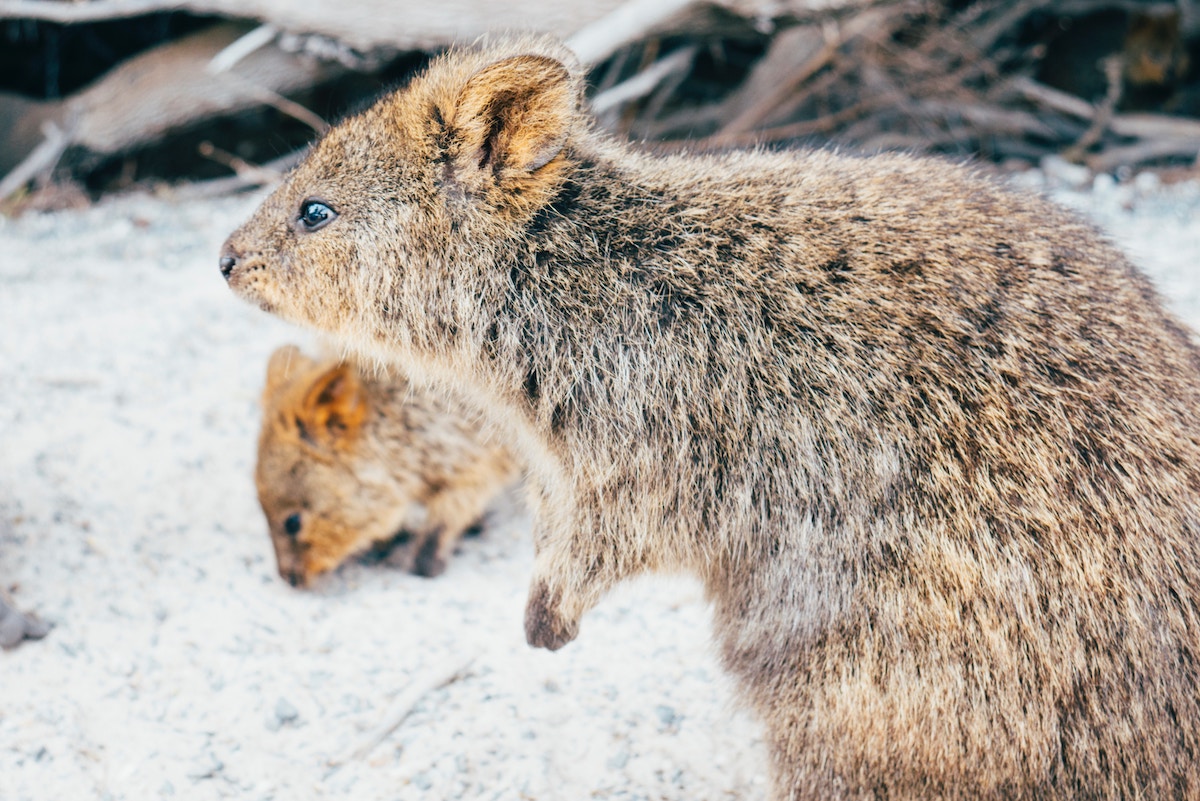 5. Step Back in Time
If you're a history buff or looking for something a little more chill, you can visit the first inland settlement in Western Australia. York is a quaint historical town that's just as picture-perfect as her counterpart in the U.K., and only 72 kilometres east of Perth. Take a relaxed stroll through town and let the well-preserved Victorian buildings transport you back in time.
Walk across Avon River on the rickety old suspension bridge built in the 1800s, head to the York Motor Museum that houses loads of vintage cars and bikes from all over the world, climb up Mount Brown for the view, or simply soak up the atmosphere in the town's cute cafés and restaurants.
Western Australia has a tonne of places to discover – these are only some of the available weekend trips from Perth! Brimming with national parks, camping sites, hiking trails, buzzing cities and endless coastline, you won't regret taking time to explore this amazing country.